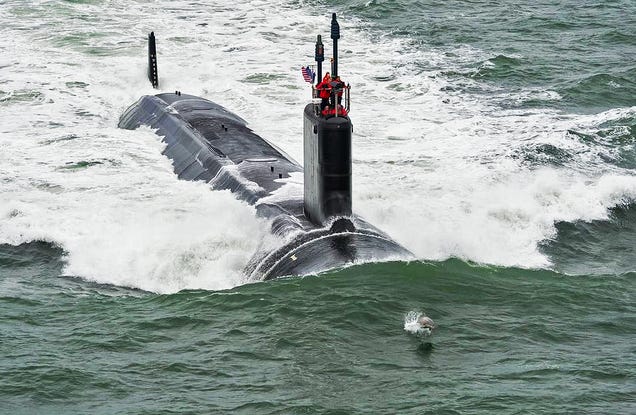 Poor little guy - looks as if he's about to get run down...
America's newest nuclear submarine, the USS John Warner (SSN-785), has successfully completed its initial sea trials, and it brought along a friend to celebrate. The Dolphin is the proud symbol of U.S. Navy's submarine force, and having one escort the new sub during a surface transit on its first voyage may be a good sign of things to come.
The USS John Warner, named after the long-serving Republican senator from Virginia, is one of only two active U.S. Navy submarines named after living people, the other being the highly modified Seawolf Class USS Jimmy Carter.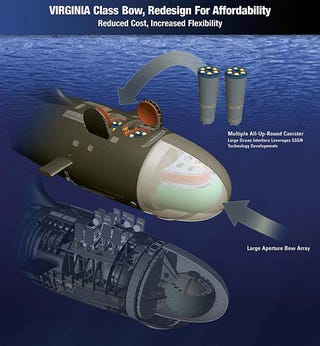 12
It is what we would call a Big Deal. The 21 inch torpedo tube has restrained naval munition design for so long. Even though most subs fire more missiles than torpedoes these days.
It's a new generation of Virginia Class fast attack submarines includes a revised bow and horseshoe shaped primary sonar array (the old ones were spherical). Additionally, some of the technology back-fitted from the Ohio class guided missile submarine conversions are featured on Block III boats. Specifically, two large doors, each covering six vertical launch tubes packed in a circle. Older boats featured 12, independent 533mm vertical launch doors and tubes.
This new configuration will allow for larger or smaller missiles to be accommodated in the future without being restrained by the width of a 40 year old UGM-109 Tomahawk design. Additionally, having just two doors to maintain instead of 12 cuts down on maintenance and construction costs.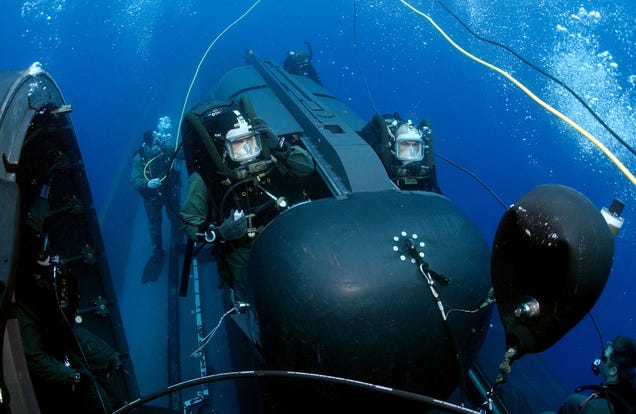 The 7,800 ton displacement, $2.65B fast attack sub will carry 40 weapons in all and has four torpedo tubes in addition to its updated vertical launch system. The John Warner will also be capable of launching SEAL teams and their Wimmer Delivery Vehicles unmanned underwater vehicles and unmanned air vehicles.
When the John Warner officially enters service later this month it will be the most advanced submarine on the planet.